How To Bread Chicken?
13 Aug 2010
If you want to cook great chicken dishes, knowing how to bread chicken is an absolute must. Chicken brings an additional crispiness and crunchiness when breaded with flavorful ingredients. But most of the times, the coating ends up scattered in the pan rather than being on the chicken. This can be easily avoided if only you know how to bread chicken.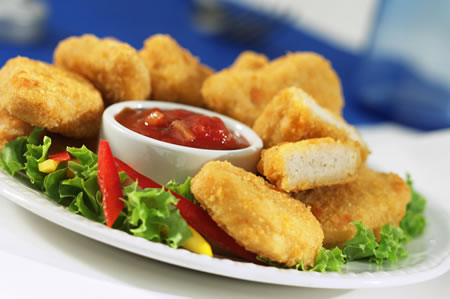 Breading chicken is nothing but coating it with bread crumbs and a few other ingredients. To bread chicken, you need the following ingredients:
•    Chicken breasts - 4-6 pieces
•    Bread Crumbs - 1 Cup
•    Flour – 1 Cup
•    Eggs – 2
•    Milk – 1 Tablespoon
•    Salt and Pepper – To Taste
Method:
To bread chicken, follow the steps below:
•    Rinse the chicken breasts thoroughly and leave aside for some time.
•    Take a mixing bowl and beat in both the eggs. Add the milk and whisk till the mixture becomes soft and smooth.
•    Take a separate bowl and add the flour to it. Keep it aside.
•    On a separate plate, add the bread crumbs. Add salt and pepper to taste. Mix well and set aside. Ensure that the bread crumbs are small in sizes, as larger pieces do not stick well on the chicken.
•    Now, coat the chicken breast first with flour. Ensure that the piece is completely covered on all sides with flour.
•    Once well-coated, dip it into the egg batter. Coat the chicken generously with the mixture so that no portion is left uncoated.
•    Now, place the coated chicken on the plate of crushed breadcrumbs. Layer the chicken with bread crumbs on all sides and pat it on, so that the crumbs stick on to the piece well. Using your fingers for this works best.
•    Repeat the process on all the pieces. You breaded chicken pieces are ready. Let the breaded chicken rest for five minutes before you start cooking them. This binds the coat better to the chicken. Fry, bake them or cook them now in the way you want to.
Add spices, seasonings or cheese to your bread crumbs to give an Italian touch. You can also add some Cajun spices to give a Mexican touch. Thus, make multi-flavored coatings and enjoy a vast range of great international flavors sitting at your home.

Photo Courtesy: www.wildwingsnj.com
How To Bread Chicken?