Is beer the healthiest alcoholic drink?
5 Jul 2010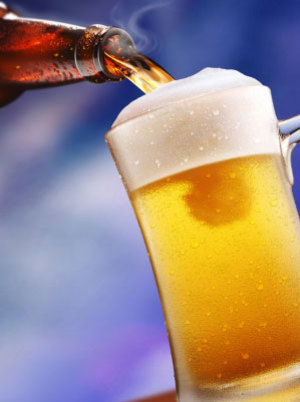 Cheers! beer lovers. Here is the answer to the question "Is beer the healthiest alcoholic drink?" A new study has recently claimed that beer, when consumed in moderation, is one amongst the healthiest alcoholic drinks. The study which was commissioned by The Beer Academy proved that beer is an excellent source of minerals, vitamins, fibre and antioxidants. It had also been stated that beer has low calorific value in comparison to several other alcoholic beverages.
The amount of vitamins present in beer can help you to keep up a balanced diet, antioxidants and minerals like silicon can reduce the risk of osteoporosis and fibre content will keep you regular. 
The results of a survey showed that 68% of Britain's population consider beer as the national drink of Britain, 13% believe that beer is prepared using chemicals but not hops and barley and around 10% were in the wrong impression that beer consists of fat. 
The study also highlighted the sociability and psychological advantages for those who enjoy beer in the local pubs but unfortunately pubs are closing up at a rate of 39 every week these days. The study argues that local pubs are a good place for people to make new friends and watch local news. Beer is still wrongly considered to be inferior to foreign imports like wine. Whether it is a marriage ceremony or a Government reception, wine is served everywhere. 
Beer is not an inferior drink anymore rather it is the healthiest of all alcoholic beverages. So, grab a glass full of chilled beer and enjoy to the fullest the myriad tastes it offers. 
Is Beer The Healthiest Alcoholic Drink?